Keum Art Projects
A platform for innovative art and design.
They work all over Germany from Berlin to promote a lasting cultural exchange and initiate collaborations between Artists, and collectors .
The Identity
We created a system based on a thorough analysis of their content to redesign Keum Art Projects graphic identity and website. Their new logo has a flexible system which can be playful, frame content, or act as a formal representation. The name is actually written twice, once in Korean and then in latin letters. We use the Korean sign as graphical elements as it is only constrained by a vertical direction.
The Website
When designing and developing their website we carefully considered their content to construct a lasting structure and user interface, making it work in a responsive way. We simplified the structure and design of the website to be unobtrusive to its content, giving it a "white-cube" approach similar to a physical gallery. This makes it flexible for future content and timeless in design, where the content of Keum's projects can take center stage and the identity and web design second.
Desktop Version
Tablet Version
Mobile Version
Printed Material
We designed a letterhead and two different business cards; one with embossed logo, a DIN A5 as well as a DIN long postcard that could be used at events for notes and flyers.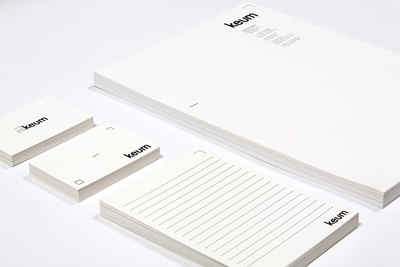 Brand Guide
We printed a 20 page Brand Manual on beautiful Munchen paper and handed it over as a part of the service showing all the variations of the logo, and how it should be used with other elements and in different settings.
Services Delivered

Graphic Identity
Website
Exhibition Materials
Art direction