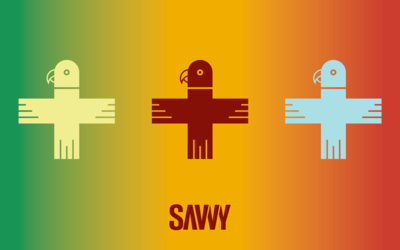 The Savvy Whey
Raw pressed Recovery Juice
A Dutch Startup based in Amsterdam set out to make recovery juices for after a workout or on the go.
The Identity
We were commissioned to do the identity and labels for a dutch startup company based in Amsterdam. Savvy Recovery drinks is a raw pressed juice developed initially to rehabilitate patients with long illnesses. It is thus packed with nutritions and therefore perfect for a recovery or as a quick meal after a workout or on the go between meetings.
To illustrate the brand we used a stylized Parrot, a bird now native to Amsterdam. It also symbolizes a plus sign, to strengthen Savvy's healthy and additive effect.
Printed Material
Savvy is still a startup and they only needed labels and business cards to start out and sell their product to potential customers and venues, targeting mainly fitness studios at first. We chose three colours contrasting the 3 different juices for the branding on the bottles, and repeated this combination for the business cards.
Services Delivered

Logo and identity
Label Design
Illustration